I see this kind of post all the time and love reading them, but have never made my own. To say how obsessed I am with Netflix and Now TV, you'd think I'd have something to gush about, and I do. I am currently bouncing between series, but the series I'm watching I'm obsessed with and I'm blaming them for my overuse of dry shampoo because I can't tear myself away from the telly and go wash my gross hair. I also blame them for my overconsumption of popcorn in the last couple of weeks.

Grey's Anatomy
An oldie but a goodie. I always heard people say how good it is and one of my friends was always urging me to watch it, but I put it off for some weird reason. I'm currently on season 5 and I only started in December. I'm obsessed with this show and it seriously sucks you in so much that you just have to keep watching. For those of you who don't know, Grey's Anatomy is set in a hospital following a group of interns as they go through their internship. It's great because there are a lot of medical stuff going on, but there's a lot of relationship drama and my god Patrick Dempsey lives up to his name of McDreamy. I have lost count of how many times I have cried at this programme and I can't stop watching. 5 series down 7 more to go.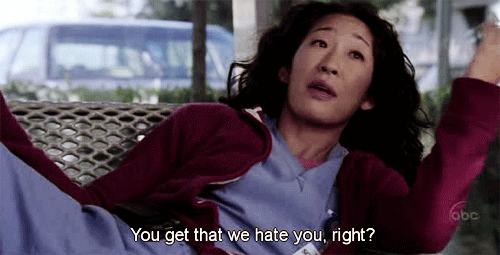 Criminal Minds
I started watching this years ago but stopped when it stopped playing on Netflix. Currently, all the series are on Now TV and so I've managed to finally get to the end! This follows less of a story than Grey's Anatomy and is more about the catching bad guys part. It's definitely a programme to watch if you like CSI or other crime programmes. It follows the role of members of the Behaviour Analysis Unit of the FBI who profile serial killers and help police catch them. It's very interesting and made me wish for a relationship like Derek Morgan and Penelope Garcia. Seriously, why aren't they married and making cute little babies together?!
Making A Murderer
I've only just jumped on the hype for this and so far have only seen two episodes, but it's hard to stop watching. It's honestly shocking to see how corrupt police officers can get, especially in a small town where everyone knows each other. I couldn't believe how Steven Avery was put away for 18 years for a crime he didn't commit and could've been proven that he didn't commit. I really recommend this if you like crime documentaries, but not if you have a short temper because it might make you want to fly to ... and punch the sheriff.
YouTube
Trisha Paytas (blndsundoll4mj)
I've been watching Trisha for ages now and I know she's not everyone's cup of tea, but she's so honest and funny and honestly, one of my favourite YouTubers. Her collabs with Shane Dawson are my favourite collabs on the internet and she's seriously funny. She makes a lot of hauls and storytime videos, which often refer to sex and food lol. Like I said, not everyone's cup of tea but I adore her.
Grav3yard Girl
Bunny is easily one of my favourite YouTubers and lately, I've found myself clicking on every video she uploads. She's sassy and interesting, with a unique sense of decor and style. She often does lipstick reviews, which are my fave and also her "Does This Thing Really Work" series are very entertaining to watch.
Emily Fox
This is one of my more recent discoveries after searching for "Nyx Matte Lip Cream Swatches". Emily Fox is a French Canadian and often does lipstick reviews and swatches, which I love as you get to see what the actual lipstick looks like on an actual person. She also does hauls and she has a great sense of fashion.
Kalel
Kalel has been around on YouTube for a while but seems to like to switch channels a lot. She has a new channel up and literally only uploaded like 4 videos and already had 3 million subscribers. I like to watch her Vegan Taste Test videos and also her What I Ate In A Day series as she's a very devout vegan, but she's also got a great figure and it's inspirational to see what she eats in a day, to me
anyway.
Sarah Rae Vargas
I love this girl so much and her "Let's Talk About Sex" is my favourite thing to watch. She's so brutally honest and I love watching her. She has two very cute little kiddies and often posts body confidence videos. I love her hauls and she's a great plus size YouTuber to watch.
That's currently everything I've been obsessed with lately. Have you watched any of these? What are you obsessed with lately? I love hearing suggestions on what to watch and what you've been lovely lately.
Til' next time! XOXO